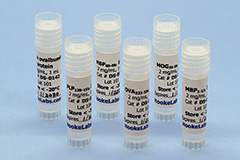 Antigens in Solution
Suitable for in vivo and in vitro stimulation of immune cells.
Antigens in PBS are typically used for in vivo challenge, after immunization of animals with the same antigen in adjuvant.
Antigens in tissue culture (TC) media are most often used in vitro, for restimulation of spleen or lymph node cells isolated from immunized animals.
Antigens in PBS
Antigens in TC media
* DS-0121 was called "PLP139-151 in TC media, 100x" prior to May 2020. Only the name has changed, to avoid confusion with DS-0161.