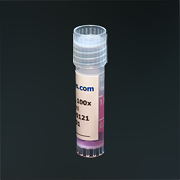 [Ser140]-PLP139-151 in TC media
For in vitro restimulation of [Ser140]-PLP139-151-specific T cells
In tissue culture media, ready to use
Supplied in vials
For analysis of T cell functions in vitro
Consistently induces in vitro recall responses of T cells isolated from [Ser140]-PLP139-151/CFA-immunized mice
For adoptive transfer EAE in SJL mice
Induces potent encephalitogenic T cells in vitro
[Ser140]-PLP139-151 in TC media is used in vitro to generate encephalitogenic T cells or to evaluate cellular immune responses.
Encephalitogenic cells are generated by culturing splenocytes and lymph node cells from immunized mice for 72 hours in the presence of 20 µg/mL of antigen.
Cat #
Product
Description
Size
SDS
(pdf)
Price
DS-0121
[Ser140]-PLP139-151 in TC media1
Peptide in tissue culture media
2 mg in 1 mL
SDS
$ 150
Protocols
Adoptive Transfer EAE in SJL Mice
Cytokine Production Induced by T Cell Recall Response In Vitro
Detailed contents
[Ser140]-PLP139-151 (serine substituted myelin proteolipid protein 139-151)
2 mg in 1 mL of tissue culture media (10% fetal bovine serum in RPMI 1640)
Sequence HSLGKWLGHPDKF
Supplied in vials, ready to use
Storage & stability
Stable 3 months (from time of purchase) when stored at -20 °C or one year when stored at -80 °C.
Limit the number of freeze-thaw cycles. Aliquot if using for more than one experiment.
References
Leonard JP et al., Crit Rev Immunol 17:545 (1997)
McRae BL et al., J Neuroimmunol 38:229 (1992)
Tuohy VK et al., J Immunol 142:1523 (1989)
Nicholson LB et al., Proc Natl Acad Sci USA 95:264 (1998)

Safety Data Sheet (SDS)
[Ser140]-PLP139-151 in TC media (PDF)
Related products
EK-0120 [Ser140]-PLP139-151/CFA Emulsion
EK-2120 [Ser140]-PLP139-151/CFA Emulsion PTX
EK-0230 PLP139-151 (native)/CFA Emulsion