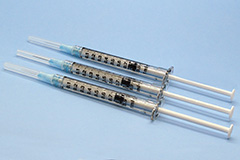 [Ser140]-PLP139-151/CFA Emulsion
For immunization of SJL mice
DISCONTINUED PRODUCT
Replaced by Hooke Kit™ [Ser140]-PLP139-151/CFA Emulsion PTX
(cat. no. EK-0120), effective April 2020.
Since 2013, this emulsion has been identical to [Ser140]-PLP139-151/CFA Emulsion (EK-0120). It was offered under two catalog numbers only for customer convenience in ordering./p>
Supplied in pre-filled syringes, ready to use.
Consistently induces strong immune response against [Ser140]-PLP139-151
Immune response is usually evaluated 10 to 14 days after immunization by looking at [Ser140]-PLP139-151-specific proliferation and cytokine production of the draining lymph nodes and spleen cells.
Each lot is tested and individually adjusted to ensure consistent immunization.
Eliminate tedious preparation of emulsions
Properly prepared emulsions are critical for reliable immunization. Our emulsions are carefully made and pre-filled into syringes, ready to use, to reduce time needed to set up experiments.
Reduce your mouse facility's exposure to pathogen contamination
Pre-filled syringes are prepared under aseptic conditions and delivered in sterilized plastic bags for easy disinfection before introduction into your mouse facility.
Cat #
Hooke Kit™
Strain
Description
Size
Price
(first kit)
Price (each
add'l kit)
EK-0122
[Ser140]-PLP139-151/CFA Emulsion
SJL
Emulsion in syringes
10 mice
$ 287
$ 244
This kit can be customized for a small additional charge. Contact us at or with your requirements.
Protocols
Adoptive Transfer EAE in SJL Mice
Cytokine Production Induced By T Cell Recall Response In Vitro
Immunization of Mice for Generation of Encephalitogenic T Cells
Detailed contents
Each kit provides sufficient emulsion for 10 mice.
Antigen is myelin proteolipid protein 139-151 ([Ser140]-PLP139-151), sequence HSLGKWLGHPDKF.
Qty
Description
3
Syringes, pre-filled with 0.7 mL [Ser140]-PLP139-151/CFA emulsion
~ 1 mg [Ser140]-PLP139-151/CFA emulsion


~ 1 mg killed mycobacterium tuberculosis H37Ra/mL emulsion

1
Data sheet: Recommended experimental protocol
Storage & stability
Stable for 20 days when stored at 2–4 °C.
Do not freeze.
Product citations
Search Google Scholar for product citations (opens in new tab)
Safety Data Sheet (SDS)
[Ser140]-PLP139-151/CFA Emulsion (PDF)
Related products
EK-0120 Hooke Kit™ [Ser140]-PLP139-151/CFA Emulsion
EK-2120 Hooke Kit™ [Ser140]-PLP139-151/CFA Emulsion PTX

DS-0121 [Ser140]-PLP139-151 in TC Media, 100x
DS-0161 PLP139-151 (native) in TC media, 100x

CK-0122 Hooke Control Kit™ for EK-0122 (full size)
CK-5122 Hooke Control Kit™ for EK-0122 (half size)