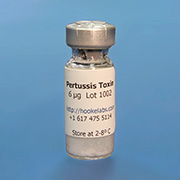 Lyophilized pertussis toxin, 6 µg
For enhancement of EAE development
DISCONTINUED PRODUCT, effective July 2021
Product remains available by special order; contact Hooke for details.
Provides additional pertussis toxin (PTX) for use with Hooke Kits™ for EAE induction
Supplied lyophilized in vials
This product is for use when more severe EAE is desired. (More severe than the EAE obtained with our EAE induction kits.) For more severe EAE, increase the PTX amount by 20-50% above the dose in the recommended EAE induction protocol.
| Cat # | Product | Description | Size | SDS (pdf) | Price |
| --- | --- | --- | --- | --- | --- |
| LT-0105 | Lyophilized pertussis toxin, 6 µg | PTX from B. pertussis, lyophilized in buffer | 6 µg | SDS | $ CONTACT HOOKE |
Detailed contents
Pertussis toxin from Bordetella pertussis, lyophilized in buffer.
Reconstitution with 0.6 mL distilled water will give a solution containing 6 µg of pertussis toxin, 0.01 M sodium phosphate buffer (pH 7.0) and 0.05 M sodium chloride.
Supplied in vials.
Turbidty: Opaque
Form: Solid
Color: White
Product selection
Either this lyophilized pertussis toxin or BT-0105 (pertussis toxin in glycerol) may be used as an adjuvant for EAE induction in SJL mice or Lewis rats. This is the same PTX supplied with our EAE induction kits for SJL mice:
EK-2120 [Ser140]-PLP139-151/CFA Emulsion PTX

Compared to BT-0105 (pertussis toxin in glycerol), this product is significantly less potent.
Storage & stability
Stable for 6 months when stored at 2 to 4 °C.
Stable for 24 months when stored at or below -20 °C.

Use within 30 minutes of resuspension in PBS.
References
Munoz JJ et al, Cell Imunol 83:92 (1984)
Janson L et al, Eur J Immunol 21:693 (1991)
Kamradt T, et al, J Immunol 147:3296 (1991)
Mendel et al, Eur J Immunol 25:1951 (1995)
Safety Data Sheet (SDS)
Lyophilized pertussis toxin (PDF)
Related products
EK-2120 [Ser140]-PLP139-151/CFA Emulsion PTX
BT-0105 Pertussis toxin in glycerol