Systemic Lupus Erythematosus (SLE) in (NZB x NZW)F1 Mice
We routinely run systemic lupus erythematosus (SLE) in female crossbred (NZB x NZW)F1 mice (NZBWF1) at Hooke. This hybrid mouse strain spontaneously develops an autoimmune disease closely resembling SLE. Similar to human patients, NZBWF1 mice develop high concentrations of autoimmune anti-dsDNA and anti-nuclear antibodies, proteinuria, and immune complex glomerulonephritis.
Production of anti-nuclear and anti-dsDNA antibodies is detectable as early as 20 weeks of age. Extensive kidney pathology is found by 9 to 10 months of age (38 to 44 weeks).
As in human patients, disease in NZBWF1 mice is polygenic and spontaneous, making this the best model of human SLE. It has excellent predictive value for drug efficacy in SLE.
Treatment usually starts when mice are 25 to 26 weeks old. By 42 weeks of age, 90 to 100% of control mice will develop glomerulonephritis.
Our standard in vivo readouts are proteinuria and body weight, both measured weekly.
At the end of the study, we do kidney histology, analyze anti-dsDNA antibodies in serum as well as creatine and blood urea nitrogen (BUN) in serum.
Please contact Hooke at or with questions or for a quotation.
Results from a typical SLE study in NZBWF1 mice at Hooke
Proteinuria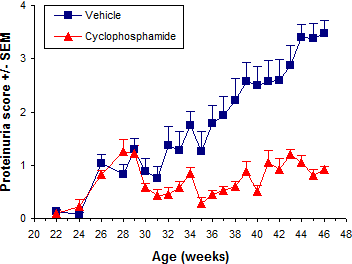 Body weight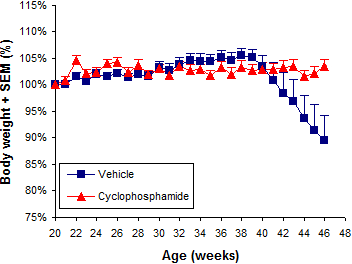 Week 46 anti-dsDNA antibodies (ELISA)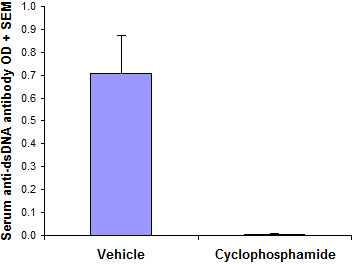 Kidney histology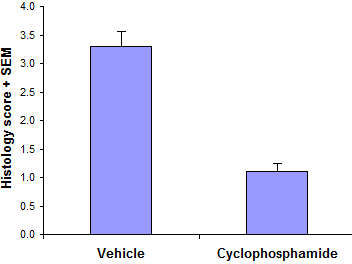 Please contact Hooke at or with questions or for a quotation.