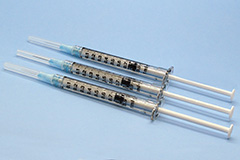 Ovalbumin (OVA)/IFA Emulsion
For immunization of mice
Supplied in pre-filled syringes, ready to use.
This product is intended to be used together with Hooke Kit™ Ovalbumin/CFA Emulsion (EK-0301).
Consistently induces strong antibody response against chicken ovalbumin (OVA)
Antibody response is usually evaluated 10 days after administration of IFA emulsion booster dose.
Eliminate tedious preparation of emulsions
Properly prepared emulsions are critical for reliable immunization. Our emulsions are carefully made and pre-filled into syringes, ready to use, to reduce time needed to set up experiments.
Reduce your mouse facility's exposure to pathogen contamination
Pre-filled syringes are prepared under aseptic conditions and delivered in sterilized plastic bags for easy disinfection before introduction into your mouse facility.
Cat #
Hooke Kit™
Strain
Description
Size
Price
(first kit)
Price (each
add'l kit)
EK-0311
Ovalbumin (OVA)/IFA Emulsion
Any
Emulsion in syringes
10 to 20 mice
$ 232
$ 198
This kit can be customized for a small additional charge. Contact us at or with your requirements.
Protocol
Immunization of Mice for Production of Antigen-Specific Antibodies
Detailed contents
Each kit provides sufficient emulsion for 20 mice.
Antigen is chicken ovalbumin.
Qty
Description
3
Syringes, pre-filled with 0.7 mL chicken ovalbumin/IFA emulsion
~ 1 mg ovalbumin/mL emulsion
1
Data sheet: Recommended experimental protocol
Storage & stability
Stable for 20 days when stored at 2–4 °C.
Do not freeze.
Safety Data Sheet (SDS)
Ovalbumin (OVA)/IFA Emulsion (PDF)
Related products
EK-0301 Hooke Kit™ Ovalbumin/CFA Emulsion
CK-0311 Hooke Control Kit™ for EK-0311 (full size)
CK-5311 Hooke Control Kit™ for EK-0311 (half size)