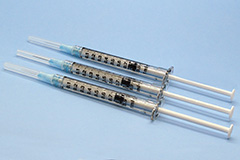 OVA323-339/CFA Emulsion
For immunization of mice
Supplied in pre-filled syringes, ready to use.
Consistently induces strong immune response against chicken ovalbumin peptide 323-339 (OVA323-339)
Immune response is usually evaluated 7 to 14 days after immunization.
Eliminate tedious preparation of emulsions
Properly prepared emulsions are critical for reliable immunization. Our emulsions are carefully made and pre-filled into syringes, ready to use, to reduce time needed to set up experiments.
Reduce your mouse facility's exposure to pathogen contamination
Pre-filled syringes are prepared under aseptic conditions and delivered in sterilized plastic bags for easy disinfection before introduction into your mouse facility.
Cat #
Hooke Kit™
Strain
Description
Size
Price
(first kit)
Price (each
add'l kit)
EK-0132
OVA323-339/CFA Emulsion
BALB/c, D011.10 TCR transgenic, C57BL/6, OT-II TCR transgenic
Emulsion in syringes
10 to 20 mice
$ 400
$ 340
This kit can be customized for a small additional charge. Contact us at or with your requirements.
Protocol
Cytokine Production Induced By T Cell Recall Response In Vitro
Detailed contents
Each kit provides sufficient emulsion for 10 to 20 mice, depending on dose.
Antigen is chicken ovalbumin peptide (323-339).
Qty
Description
3
Syringes, pre-filled with 0.7 mL OVA323-339/CFA emulsion
~ 1 mg OVA323-339/mL emulsion


~ 1 mg killed mycobacterium tuberculosis H37Ra/mL emulsion

1
Data sheet: Recommended experimental protocol
Storage & stability
Stable for 20 days when stored at 2–4 °C.
Do not freeze.
References
Robertson JM, Jensen PE, Evavold BD, J Immunol 164:4706 (2000)
Sette A et al, Nature 328:395 (1987)
Scott CA et al, Immunity 8:319 (1998)
Safety Data Sheet (SDS)
OVA323-339/CFA Emulsion (PDF)
Related products
DS-0141 OVA323-339 in TC media

CK-0132 Hooke Control Kit™ for EK-0132 (full size)
CK-5132 Hooke Control Kit™ for EK-0132 (half size)