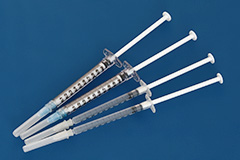 MOG35-55/CFA Emulsion PTX 5X
For EAE induction by active immunization in C57BL/6 mice
DISCONTINUED PRODUCT
Replaced by Hooke Kit™ MOG35-55/CFA Emulsion PTX
(cat. no. EK-2110), effective October 2012.
This product is still available by special order, primarily for customers who don't want to alter existing protocols. Click here for details about the product replacement.
All customers are encouraged to switch to the latest products for this application.
There are no advantages to the discontinued product.
Product selection | Protocol | Contents | Typical Results | Storage | SDS | Related products
Supplied in pre-filled syringes, ready to use.
Consistently induces EAE in female C57BL/6 mice
EAE will develop in 90-100% of mice within 8 to 14 days, with mean maximum score of 3.0 to 3.5. Each lot is tested and individually adjusted to ensure consistent disease induction.
On Day 0, MOG35-55/CFA emulsion and pertussis toxin are injected.
On Day 1, a second dose of pertussis toxin is injected.
Eliminates tedious preparation of emulsions
Properly prepared emulsions are critical for reliable induction of many autoimmune disease models. Our emulsions are carefully made and pre-filled into syringes, ready to use, to reduce time needed to set up experiments.
Saves time and mice in testing individual reagents
Lot-to-lot reagent variations can cause dramatic changes in severity of induced autoimmune disease. The consistent potency of pre-characterized Hooke Kits™ eliminates time-consuming testing.
Reduces your mouse facility's exposure to pathogen contamination
Pre-filled syringes are prepared under aseptic conditions and delivered in sterilized plastic bags for easy disinfection before introduction into your mouse facility.
These kits can be customized for a small additional charge. Contact us at or with your requirements.
Product selection (IMPORTANT)
Many factors – including mouse age, strain, breeder, and colony – influence EAE disease susceptibility and the pertussis toxin (PTX) dose required. Even with identical mice and reagents, EAE disease can vary considerably from lab to lab.
Therefore, before ordering for the first time, we recommend that you run 10 mice with Hooke Kit™ (EK-0114) and let us recommend the best Hooke Kit™ for you based on the results (EAE incidence and average severity). After running 10 mice with EK-0114 you can move to a weaker or stronger kit if necessary, depending on results. Please contact us for information about sample ordering for this purpose.
With a given Hooke Kit™, older mice generally develop more severe disease and more uniform disease onset.
Protocol
EAE Induction by Active Immunization in C57BL/6 Mice
Detailed contents
Each kit provides sufficient reagents for 10 mice.
Antigen is myelin oligodendrocyte glycoprotein 35-55 (MOG35-55) rat, mouse, sequence MEVGWYRSPFSRVVHLYRNGK.
Qty
Description
2
1 mL syringes, pre-filled with MOG35-55/CFA emulsion
~ 1 mg MOG35-55/mL emulsion


~ 2 mg killed mycobacterium tuberculosis H37Ra/mL emulsion

2
1 mL syringes, pre-filled with pertussis toxin in phosphate buffered saline (PBS)


~ 0.7–10 µg pertussis toxin/mL of PBS

1
Data sheet: Recommended experimental protocol, typical results
Typical results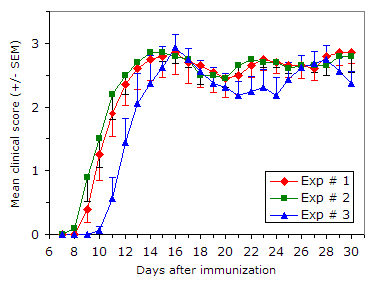 EAE induction in C57BL/6 mice
Protocol: EAE Induction by Active Immunization in C57BL/6 Mice
Data are from three independent experiments using Hooke Kit™ MOG35-55/CFA Emulsion PTX (EK-0110), with Taconic mice.
Similar results are obtained using other MOG35-55/CFA Emulsion PTX Hooke Kits™, and with MOG1-125/CFA Emulsion PTX Hooke Kits™, using the recommended protocol.
Exp #
Mice/group
Age at
immunization
Mean maximum
score ± SD
Day of onset
± SD
Disease
incidence
1
10
10 weeks
3.25 ± 0.49
10.9 ± 3.9
100 %
2
10
10 weeks
3.45 ± 0.60
10.1 ± 1.5
100 %
3
8
9 weeks
3.25 ± 0.38
12.1 ± 1.6
100 %
Storage & stability
Stable for 20 days when stored at 2–4 °C.
Do not freeze.
Safety Data Sheets (SDS)
MOG35-55/CFA Emulsion (PDF)
Pertussis Toxin in PBS (PDF)
Related products
CK-0110 Hooke Control Kit™ for EK-0110 (full size)
CK-0112 Hooke Control Kit™ for EK-0112 (full size)
CK-0113 Hooke Control Kit™ for EK-0113 (full size)
CK-0114 Hooke Control Kit™ for EK-0114 (full size)
CK-0115 Hooke Control Kit™ for EK-0115 (full size)
CK-0116 Hooke Control Kit™ for EK-0116 (full size)

CK-5110 Hooke Control Kit™ for EK-0110 (half size)
CK-5112 Hooke Control Kit™ for EK-0112 (half size)
CK-5113 Hooke Control Kit™ for EK-0113 (half size)
CK-5114 Hooke Control Kit™ for EK-0114 (half size)
CK-5115 Hooke Control Kit™ for EK-0115 (half size)
CK-5116 Hooke Control Kit™ for EK-0116 (half size)